We have an advertising relationship with the stores we link to in this post. Thank you!
Once in awhile, a quinceanera blows you away with its originality and precise, creative details. I recently came across a quinceanera that struck me as extremely well planned and sooo imaginative. This quinceanera was a Fresh Prince of Bel-Air/ hip hop themed event.
Elia Anastasia Vazquez celebrated her quinceanera on March 26, 2016 in Houston, TX. It was planned by her Mom, Lila Vazquez. Lila did an incredible job and she executed this event like a professional. No detail was spared, and her meticulous planning resulted in an amazing outcome.
Lila shared lots of great photos–as well as some helpful advice for planning a quinceanera. Enjoy!
Choosing a quince theme
So, this is clearly a super unique quince theme. People often ask me for help finding a theme, but the truth is, themes are pretty personal. I asked Lila how they came up with this theme, and this is what she told me:
" My daughter really loves hip hop music. She used to watch Fresh Prince all the time. And now that Houston has a station for 90s music she decided she wanted to do something bright and colorful but not 80s theme– "everyone does that". So, she decides hip hop. Then she found the baile sorpresa outfit that she wanted and low and behold it was a Fresh Prince style shirt. So it became Fresh Prince hip hop theme"
This is how the best themes are decided upon and chosen. It has to start with what the quinceanera likes and LOVES. When choosing a quinceanera theme, brainstorm a list of all the random things you have loved in your life. If you get really excited about planning a theme, you may have found the one.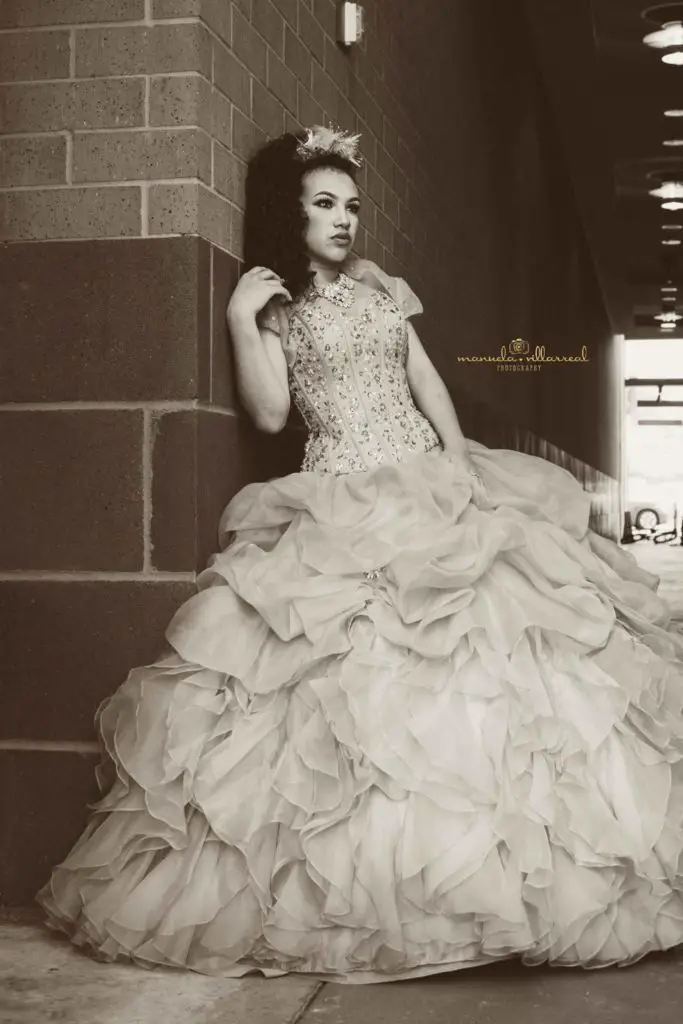 [FinalTilesGallery id='1′]
Planning the party details
Lila designed almost every aspect of this party based on Elia's tastes and preferences. Elia came up with the boombox invitation idea. Lila drew out the cake and presented it to the cake designer. She also made all of the centerpieces for the event.
 [FinalTilesGallery id='2′]
Biggest challenge?
Lila told me the biggest obstacle she faced in planning the quince was preparing for the dances. "The hardest part of this party was the bailes sorpresas, teaching the kids, getting them all together, keeping their attention, and keeping their focus. But at the end of the day they had 3 large routines and they did amazing."
Lila choreographed the formal dance. Lila, Elia and friends worked together to choreograph the bailes sorpresas.
The formal dance was inspired by Elia's longtime love of Dory, and Lilo and Stitch.
[FinalTilesGallery id='5′]
Highlight of the party
"They did a formal dance which included music from waltz, bachata, merengue, tribal, carnavalito, hit the quan. Then they did a cheer routine because my daughter and her friends are all cheerleaders. That then turned into a hip hop battle that ended with them performing together the Betcha can't get like me challenge.
That's what most of the attendees really enjoyed." So, basically, the hardest part of the party was also the best part!
[FinalTilesGallery id='6′]
Tips for planning a quinceanera
Lila had a few helpful suggestions for planning a large, very creative party like this. She had planned a quinceanera one time before this one, but it was smaller and planned more quickly.
Start planning a year in advance. This allows you to truly get all your details in order, versus having to throw stuff together last minute.
To Moms: make sure you make the party your daughters party, not your own. This is a big one! It is really easy to accidentally plan a party that ends up being more yours than your daughters. It's a good idea to involve the quinceanera in a lot of the planning and decision making.
Be creative and think outside the box. "Too many people follow the crowd and do the same styles". This is also true! I think even if you do a more common theme (and thats ok!!), put your own spin on it and make it your own.
Vendors for Elia's quince
Photographer:  Manuela Villareal Photography
Videographer:  Omar with O Audio Visual
Dress, crown, jewelry, shoes, chambelanes tuxes, damas dresses, ramo(lights up), pillow, signature book were all found and purchased from Maribel Andres at Ann Marie Bridal Boutique
Reception Hall: Elegant Hall 7319 Rankin Rd., Humble, TX
Choreography: Lila, Elia and friends
Centerpieces: Lila Vazquez
Airbrushed shirts: Customs by Hector
Graffiti sign: Yikes Weka
Sweets Buffet: Christie Lopez
Cake:  Yummy Tummy Pastries in Humble, TX
Nails:  SkittlezzStylezz in Houston
Makeup: Milan Lord 
Thank you cards: VistaPrint