We have an advertising relationship with the stores we link to in this post. Thank you!
At some point, it is very likely that you will do some online shopping for your quinceanera. Sometimes you can find more of a selection online. Or, the prices may be better. It can also be very simple to order personalized items directly from your computer.
I put together this list of vendors that you can check out for some of your quinceanera necessities, such as invitations, shoes and more 🙂
Please also take a moment to scroll down to find my online shopping tips. They are useful for quinceanera shopping- and online shopping in general!
[table id=6 /]
A couple quick guidelines for safe online quinceanera shopping:
*My #1 Rule: Make sure they have a working customer service telephone number.  If something goes wrong with your order, you need to know that the company can be reached by phone if necessary
* Know who you are dealing with: make sure you are dealing with a legitimate business. If you have never heard of the company but want to purchase from them, do a quick google search. Google their name, and the word "reviews". Example "QuinceCompany reviews". See what comes up–the good, the bad–find out what info is out there regarding this company. You can also search the business at bbb.org, and read the business review for the company. See if they have a good record– or a serious pattern of complaints.
*Social Media: check out their record on social media such as Facebook, Pinterest or Instagram. You can get somewhat of an idea of how the company interacts with its customers and followers.
* Use a secure payment method: such as PayPal or credit card. Cash, Western Union or Money Order are not secure or acceptable payment methods when online shopping.
* Know the return policy: always be sure to check out the return/exchange policy prior to purchase. Especially when buying items for a quinceanera, you want everything to be pretty close to perfect. Know in advance if the merchant allows returns/exchanges, and in what time frame.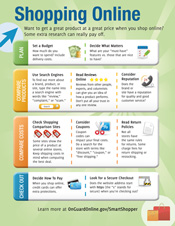 * Consider shipping costs and delivery time frame: with online shopping, there will be a fee for shipping. Sometimes an amazing deal isn't such a deal once you factor in shipping costs. Other times, even with shipping cost, you are getting a sweet deal. Be on the lookout for free shipping deals, or flat rate shipping. Know when to expect your goods–your items must arrive in plenty of time for the quince.
As you can see, it does take a little time to determine if a website or company is suitable to order from. But it is definitely worth the extra effort because you will be secure in your purchase and may even save money with an online supplier!
My Perfect Quince
For more information on online shopping safety, please check out the Shopping Online post published by OnGuardOnline.gov.  I cannot speak highly enough of this guide (that's why this is in bold red letters haha) This is an excellent resource that is worth checking out if you have any online shopping to do in your future!