We have an advertising relationship with the stores we link to in this post. Thank you!
The beautiful ballet theme
Were you in dance as a young girl, or maybe you still are? Is ballet something that is special to you? Or are you looking for a super feminine and girly theme? You may like a ballet quinceanera theme for your quince! **Muchas Gracias, to our reader Anabel, for her suggestion to create a ballet quince theme outline–it really is a unique & pretty theme.
Find out the best ways to achieve a ballet quinceanera theme
Color Scheme: Pink and white is a pretty choice for this soft theme. Pink, peach and cream colors would also be super pretty, or a few different shades of light pink. If you want to try something unexpected, a yellow and white theme would be unique.
Venue: An elegant location would be ideal, like a pretty ballroom. I also see this theme working out better indoors than outdoors. Of course with the proper decorations and details, you can accomplish any theme–anywhere!
Invitations: An invitation in the shape of a ballet slipper would be very appropriate. Look for invites with ballet type details, like ballet slippers, or tutus, or a silhouette of a dancer. Also look for soft, pretty styles in damask print, or floral style invites with rose petals, pearls or lace accents.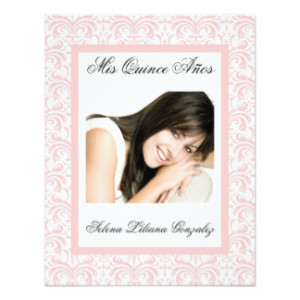 The Dress: A dress with a ton of tulle is a must!! Whether a traditional long gown with a full tulle skirt–or a shorter dress with tulle skirt–tulle will absolutely be the best fabric for a ballet quinceanera theme.
Quince Court: Your damas would look cute if they wore dresses with tutu skirts, and flats that resemble ballet slippers. Find dresses that compliment your color scheme. Tutu skirts are also pretty simple to make–and there are plenty of Youtube tutorials to teach you how! Pair with a simple top, and a sock bun for a stunning look. Outfit your chambelanes in simple but elegant suits.
Decorations: Ballet shoes, tutus, silhouettes of ballerinas, ribbons, and tulle decorating accents will all help create your ballet quinceanera theme. The feeling should be soft and delicate.
Entertainment: A band would go especially nice with this theme. Have classical music playing as your guests arrive to create a ballet ambiance.
Food: Delicate foods like tea sandwiches, crab cakes, fresh fruit and veggies, and salads would fit in nicely.
The Cake: There are a lot of cute options with this theme. I have seen ideas on Pinterest for cupcakes that are super cute, with the frosting shaped like a tutu and topped with a leotard cut-out.
Party Favors: Chocolate-drizzled marshmallows on a stick would be nice. Finish with a pretty pink ribbon.
Special Touches: Invite your guests to wear tutus- this will be a big hit, especially with your younger guests. A small ballet-inspired performance by you and your damas would also be lovely. Don't worry, you don't have to be ballerinas to accomplish this. Check youtube for some simple ballet-inspired routines.
Note: I found a blog with a post on a ballet theme, it is a Nutcracker Ballet inspired theme, and truly beautiful. Click here to visit.
Do you have an idea for a quinceanera theme that you would like us to cover? Send us your ideas to myperfectquince@live.com~
My Perfect Quince