We have an advertising relationship with the stores we link to in this post. Thank you!
It's that time of year! The leaves are falling (depending on where you live) and pumpkin everything is everywhere. If your quince falls in the FALL, and you LOVE Halloween, you may want to try a Halloween quinceanera theme.
You can make your Halloween quinceanera theme exactly how you like. It can be elegant, scary, you can have zombies, you can make it like your favorite scary movie. It's all about the kind of party that you envision. Read on for some ideas to get you started!
Designing a Halloween quinceanera theme
Color scheme: Well, some obvious choices are black and orange, and black, orange and purple. Stripes (black and white) also fit well with a Halloween theme. You could also add in silver or white to any of these color combos. 
If you are looking for something a little different, I came across a really unique color scheme on Pinterest. Purple, burgundy, orange and gold work together to make a really beautiful combination for a Halloween quinceanera theme.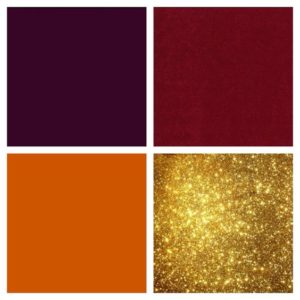 Venue: It would be great to have your Halloween quinceanera in a large 'haunted' mansion! I have seen venues before that would work well for this theme. A Victorian style building. Or possibly an older location. But even if you already have your location, and it's nice and modern, you could still carry out this theme and call your quince your "Halloween Ball".
Invitations: You want your invitations to let your guests know about your theme. You will want to find invitations that represent your party. Also, you need to consider if you want your guests to come to your reception in costume, or not. You could also ask everyone to wear the same color. For example, instead of an all white party, it could be an all black party. Your invitations are meant to alert guests to any special requests like this.
The dress: Your dress depends on your colors. Or, maybe your colors depend on your dress 🙂 It kind of depends on which you choose first! A black, burgundy, deep purple, or grey quinceanera dress would be nice options.
Quince court: Your colors for your court also depend on which scheme you go with, and especially the color of your dress. You always want your court to have a different color than you. It helps you pop even more! If your colors are black, purple and silver, and your dress is purple, for example, you can put your court in a combination of silver and black.
Decorations: Think of all of the things that remind you of Halloween. Bats, pumpkins, ghosts, black cats, cauldrons, spiders, spiderwebs, black roses, skeletons, haunted houses, candelabras, witches, candles, and candy. You can brainstorm a list of Halloween elements and objects. You can use a lot of items, or just a few. Example: black cats, witches and black roses.
I think lighting will be very effective for this theme. Lighting serves to create a mood and ambiance. If purple is one of your colors, I especially like walls with purple uplighting.
If you have a long time to plan your quince, and you already know that you want a Halloween quinceanera theme, stock up after Halloween on sales items! You can find items 70% off and more at places like Michaels or Hobby Lobby, or online, right after Halloween.
You can go elegant, modern, or traditional Halloween for your decor. Pick a vibe and run with it when you are hunting for decorations.
The cake: Your cake will go in line with the colors you choose, as well as the main elements of your theme decor. A lot of Halloween cakes are over the top! If that's not your thing, check out this simple but amazing cake below.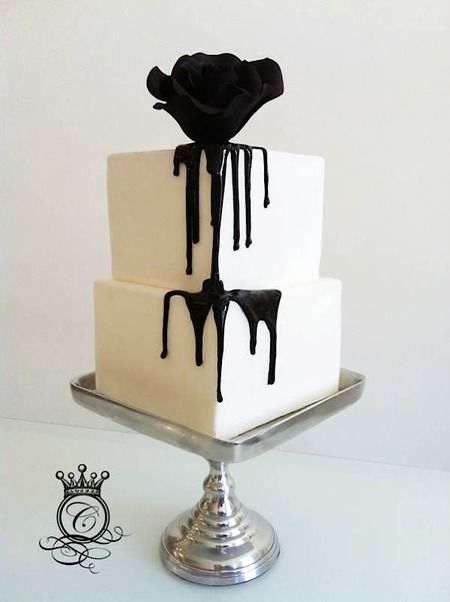 The food: You can go with traditional quinceanera foods, or you could design a menu that includes some Halloween themed foods. There are a lot of ideas for Halloween appetizers on Pinterest, and guests always appreciate appetizers.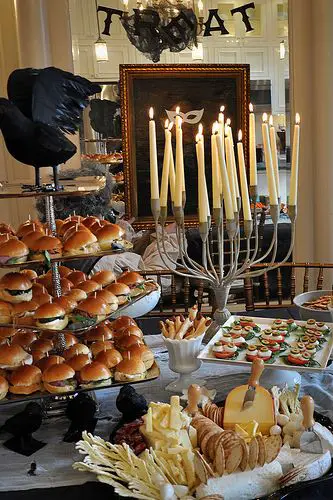 Recuerdos: I think a good recuerdo for this theme would be anything that involves candy! Candy is such an important part of Halloween that it would make sense to send your guests home with some treats.
Special touches: How about a surprise dance to Michael Jackson's thriller?! Or maybe there is another Halloween song that you could choreograph a dance to. Another idea: make  a photo booth based on your favorite Halloween or scary movie.
I hope you liked the Halloween Quinceanera theme~~comment below if you have more ideas on how to accomplish this theme~
My Perfect Quince