We have an advertising relationship with the stores we link to in this post. Thank you!
Under the Sea Themed Quinceanera
Do you love fish, the ocean, coral and sealife? Was The Little Mermaid one of your favorite Disney movies as a young girl? Consider having an under the sea theme for your quinceanera. The under the sea quinceanera theme is an enjoyable party theme, with many ways to make your quinceanera memorable for you, your family, and your guests!
Planning an Under the Sea Theme
The Venue: The dream venue for this quince theme would be an aquarium. However, this may be location or cost prohibitive, so don't worry–this theme would work well at practically any indoor or outdoor venue.
Color Scheme: I have seen a few different takes on this theme and the main colors. One is turquoise  navy and orange (example: Finding Nemo colors). Another take on the color scheme is turquoise, purple and green. Another option is aqua blue, white and silver.
Invitations: Invite your guests to "Party Under the Sea" with fish, water, ocean or dolphin themed invites.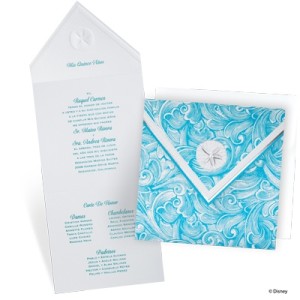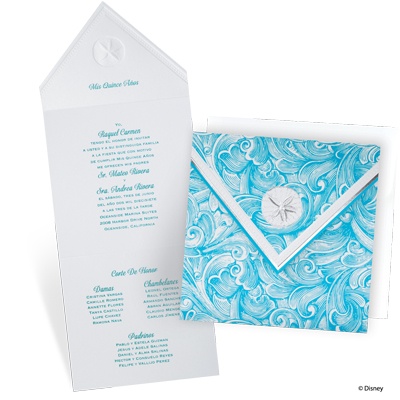 The Dress: A mermaid style gown would be very appropriate for this theme, in a color that compliments the color scheme. If you opt for a more traditional ball gown, look for gowns with iridescent sequins or beading details.
Quince Court: Dress your damas to match the main colors of your theme. If you opt for a traditional ball gown style quince dress, consider selecting a mermaid style gown for your damas. For your chambelanes, a sea-life inspired boutonniere would be a good option to incorporate them into the sea theme. If you want to get really into the theme, your damas can be mermaids and your chambelanes can be fisherman-inspired, for the reception part of your quince.
Decorations: The decorations are what is really going to pull this quince theme together. If you are up for some DIY, there are many attractive decorations ideas for this theme that can be handmade (see my Pinterest board for this theme for motivation!) One element to consider is live fish in fishbowls, as centerpieces for your tables or just for the head table. This is a super cool element to add, but you have to be prepared for caring for the fish, and for the chance that they could die during the reception! No matter what you chose to use as centerpieces, aqua blue tablecloths will help set the tone for a water look. Green and blue balloons, or balloons to match your color scheme, and  blue lights will go far to  further your theme.
Giant 3′ Balloon Blue Pkg/2
Giant 3′ Balloon Clear Pkg/2
Entertainment: Whether you choose a DJ or band, either will be a good choice for this theme. Consider decorating their table with streamers to match the party.
Food: For an under the sea theme, you must serve at least one seafood item! Shrimp skewers, lobster bisque, oysters, sushi, crab salad, calamari, baked salmon, shrimp scampi–there are lots of ways to incorporate seafood into your soups, appetizers or main dishes.  But don't go overboard–many people either don't like seafood, or are allergic to it. Make sure that there is a mix of seafood and non-seafood options. Serve a spinach dip and name it "seaweed dip".
Cake Ideas: A cake for this theme could be flamboyant and colorful, or ombre sea colors. It could have "scales" on it, or feature a dolphin jumping out of the top. If you go with cake pops, you can get them in sea creature forms, and you can also dress up cupcakes to look like fish, using colored M&Ms.
Party Favors: Who doesn't love goldfish crackers? This is a super cost effective and clever party favor that everyone will think is yummy (Costco, $9.24 for a 24 pack of 1.5 oz. Pepperidge Farm goldfish crackers). Attach a small note to the bag thanking your guest for partying under the sea with you.
Special Touches: Hang a sea life background, and place sea props such as a fishing net and scuba gear for guests to pose with for photos.
This is one of the quinceanera themes that has many advantages: you can DIY ALOT of the decorations, there are a massive amount of products related to this theme that you can buy, and it is an all around super fun quince theme. How are you planning to customize your under the sea theme?
My Perfect Quince