Decorations

If you are planning a quinceanera, you may already be looking for quinceanera recuerdos, or party favors for your guests.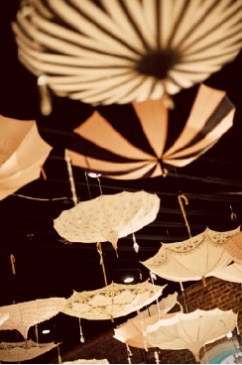 Parasols are old-fashioned style umbrellas that can be used for decoration. They are often made of paper, nylon or even

To me, the biggest decorating challenge for a quince is decorating the tables. There's usually a lot of tables, and
Event planning tips
Keep a folder--or a binder-- for keeping track of everything quince-related. Ideas, addresses, schedules, receipts--keep everything in one place so you aren't constantly hunting down your important info.
Parents: establish your budget up front. This includes determining who will be paying for what. Likely, you will have padrinos pitching in for various aspects of the quince. Which is GREAT!--but this can be very stressful.
Try to get a solid idea of who will be contributing, how much they are able to contribute, and the timeframe for when the contribution will be made. Work to keep everyone on the same page so misunderstandings are kept to a minimum.
Pace yourself. Don't try to plan your whole party in a week. Tackle one piece of the planning at a time. Bring a best friend along to some of your appointments and have fun with it.
Don't let yourself get disappointed by setbacks. Is the venue that you really wanted already booked? Move along to the next best option--and realize that maybe the first choice just wasn't meant to be.
Finally, realize that there is life outside of quinceanera planning. Take time to do things that have absolutely nothing to do with party planning. Your sanity will thank you :)