This page contains affiliate links. Thank you!
Complete Guide to Quinceanera Decorations
Find quinceanera decorations from A-Z and get ideas for how to decorate your XV
Your quinceanera decorations will depend a lot on your theme, budget, location and personal preferences. Some basic decorations that you usually find at quinceaneras: balloons, centerpieces, table linens, maybe seat covers, a backdrop for the head table. You may also find draping, lighting, archways, a photobooth backdrop area, and candles.
Read on to find the best ideas and products for decorating your XVanos~
---
Top ideas for quinceanera decorations
---
1. Archway
An archway can be made of balloons or other materials, and can be another element used to make your entrance to your party special.  An archway can be purchased, rented or made.
---
 2. Backdrop Decorations
You can buy a backdrop, or make your own. A backdrop is ideal behind the head table, a buffet table, and/or cake table. It can also be used as a fun photo booth area for your quinceanera. A backdrop can be anything from a banner to homemade paper art, to draped fabric.
Some backdrop ideas: personalized banners, beaded curtains, letters spelling out the quinceanera's name, paper flowers, pom poms, strings of lights, garlands, draped fabric, balloons, and lanterns.
---
One of the best decorations ever, balloons will help you stretch your decorating budget and make a big impact. I have made a complete description for different ways to use balloons at your quinceanera party here.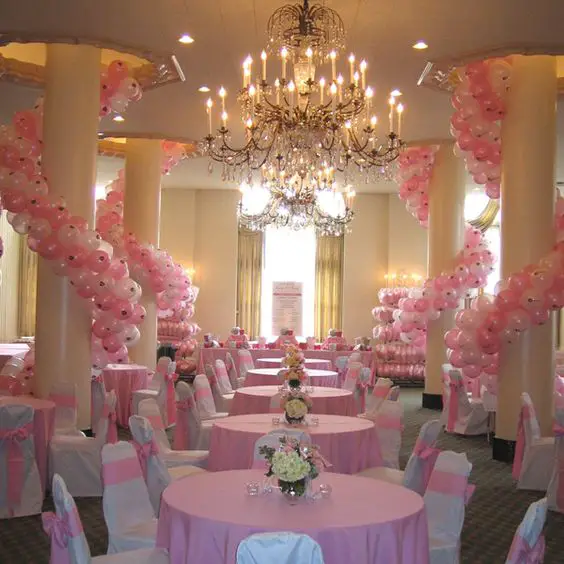 4.  Candle Decorations
 Candles are nice to use as centerpieces. Its safest to use small votive candles floating in water, or LED candles. Check with your venue-- sometimes reception halls keep a stash of decorations items that can be used to accompany your quinceanera decorations.
Merchant:

Beau-coup.com

Price:

$64.95
Merchant:

Beau-coup.com

Price:

$21.00
Merchant:

Beau-coup.com

Price:

$15.50
5. Ceiling Decor
Decorating your ceiling can make a big difference at your quince. Fabric, balloons and parasols are three common items used to dress up a ceiling.
---
 Use your centerpieces to make your party pretty and support your quince theme. Check out the quince themes center for theme specific ideas! I also have a Pinterest board for quinceanera centerpiece inspiration.
---
7. Chair covers/linens/sashes
This is one way to transform a plain room into something really fancy. Renting chair covers can cost more than buying chair sashes, so make sure to do your homework.
8. Chalkboard Decor
Chalkboard decor is really popular right now. You can use chalkboard elements for table numbers, random signs around your party, or you could even use a chalkboard easel to list important or funny facts about yourself!
---
9. Curtains
Curtains can be used at your entrance, or at any doorway around your event.
---
10. Flowers
 Just like at weddings, you are very likely to find flowers somewhere at a quinceanera. Fresh, artificial, or paper are a few different options. Below are some options that are sold by a florist called Fifty Flowers. They have excellent prices and great reviews online, and are definitely worth checking out if you think you might want fresh flowers at your quince!
---
 Garlands can be bought or made, and can be made of a wide range of materials. Paper, tissue paper, tulle, crystals, beading and even objects like mini-lanterns can be found on garlands.
---
12. Life size cutout
 This is such a great and unexpected quinceanera decoration. A life size cutout of the quinceanera herself!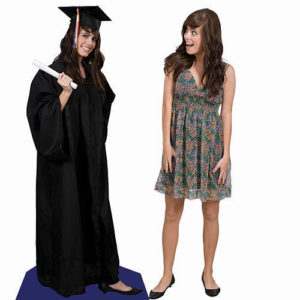 ---
13. Lighting
 Lighting is awesome to help create a mood, enhance a color scheme or add drama to your party. Lighting can be dramatic, with entire walls lit up.  Lighting can also be more subtle, like strings of lights on the head table.
---
14. Pew Bows
Pew bows are a simple way to make sure the church look very elegant. You can buy bows, or buy fabric to make bows if you want a custom color or fabric.  I found a tutorial here that is stunning, and although it is technically not a pew bow, it is a lovely pew decoration that would be amazing for a quinceanera.
---
15. Photos
 Because it is your special day, don't hesitate to highlight yourself by displaying pictures of you and your life. Consider doing a slideshow if you have access to a projector, or find other creative ways to display your photos. Ordering a favorite photograph of yourself on canvas and displaying at your mass and reception would be beautiful and something you can keep forever.
Check here for deals on Shutterfly prints!
---
16. Pom Poms & Paper Lanterns
Pom poms and paper lanterns are a popular decorating item. I found a source that has an AMAZING assortment and variety for both, PaperLanternStore.com.  These items can be used for centerpieces, be hung around your party or as extra cute decorations on your cake table (or candy buffet!).
---
There are a lot of options for quinceanera decorations.  Make your special day your own and let your personality shine through! It doesn't have to be super expensive if you don't mind getting a little creative  🙂 
You can find a lot of deals on quinceanera decorations online. ALWAYs look for a coupon code when you are buying online. Also, check my quinceanera deals page prior to ordering! Even if you are buying or renting decorations in person, always ask what is the bottom line, best price the store can offer you.
My Perfect Quince