We have an advertising relationship with the stores we link to in this post. Thank you!
Choosing your color scheme will be one of your most important quinceanera planning decisions.  Your quinceanera colors will depend on the color of your dress, and your quinceanera theme. Your color scheme will also be based on what YOU like–what color combinations you are drawn to. Maybe you've always loved purple–or the combination of black and white. Sometimes, you may decide to just have a color scheme– and not really do a quince theme at all.  
Quinceanera Colors: The Basics
Quinceanera color schemes are usually 2-3 colors. Some themes require you to be even more colorful, and you could easily use 4 or more colors–the Mexican Hacienda theme is an example of this.
For a simple, soft look, pair your main color with white. For a very dramatic look, match your color up with black. Silver or gold will complement many colors well. For example, yellow and white would pair up nicely with gold; grey and salmon would look lovely with touches of silver.
There really are no rules–there is nothing wrong with designing with your own combination. Maybe you really like neutral colors–like tan, cream and browns. These may not be typical quinceanera colors but if that's what you like, it would make a really elegant color scheme.
Single Color Quinceanera
Sometimes, you may choose to use just one color for your party. All White parties are popular–where you even ask your guests to wear white to contribute to your theme. The Red Roses theme would call for an abundance of red. It's definitely ok to just have one color. The only issue, depending on the color, will be having to find all the decorations, dresses, and party supplies in the same shade of color.
Color Schemes with 2 Colors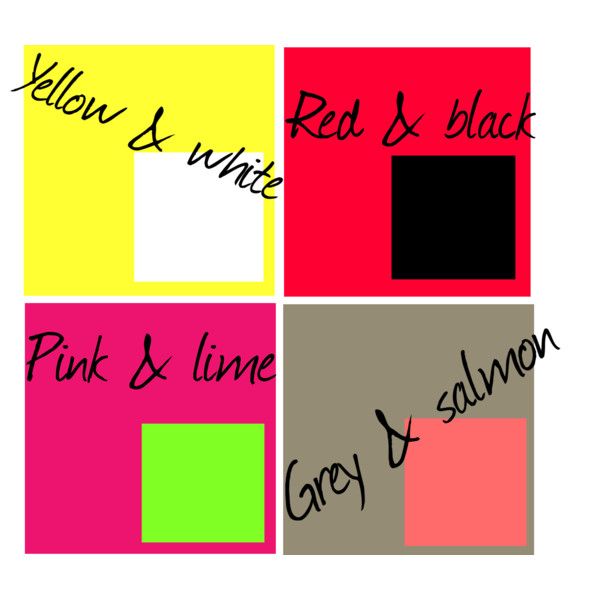 Quinceanera color schemes with two colors can help you keep it simple! Black and white is an example of this. When you are only looking for decorations, dresses, etc. in black and white, your options are narrowed down.  It's easier to focus and target your two colors. Some popular choices for two colors: pink/black, red/black, purple/pink, gold/white, pink/silver, red/gold, navy or baby blue/white, and lime green/turquoise.
Color Schemes with 3 Colors
I personally like themes with 3 colors.  It opens up your options for decorating and you can mix and match your colors. Sometimes that third color really pulls your look together.
---
---
---
---
---
---
---
---
These are just some examples of color combinations for events. There are endless possibilities–it's really up to your personal taste! What is your favorite combination of quinceanera colors? What is your theme and what color scheme are you going with?
My Perfect Quince