We have an advertising relationship with the stores we link to in this post. Thank you!
Popular theme: The Candyland Themed Quinceanera!
Are you looking for a super colorful and sweet theme? A candyland theme quinceanera may be exactly what you are looking for! You can take a few elements from the game Candyland, mix it with some candy shoppe ideas and add your personal touch to develop this theme.
Tips for putting together a candyland theme quinceanera
---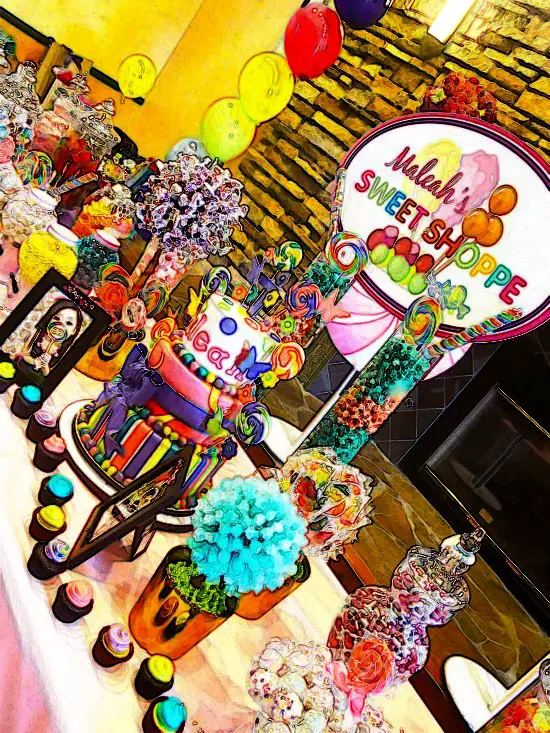 ---
Color Scheme: A candyland theme is very colorful, bright and fun. Pick a out a main color and let the candy decorations and props pop out against it. White would be a nice choice, to contrast the colorful candy surroundings. You could also do a combination of 3 colors, like pink, green and yellow. Choose all decorations and candies in these colors.
https://www.pinterest.com/myperfectquince/candy-quinceanera-theme/
---
Invitations: There are lots of options for candyland themed invitations. You could go an extra step and seal each envelope with a candy or lollipop sticker~
---
Venue: This theme works nicely indoors or outside.
 A location with plain colors will help your colorful party pop.
---
The Dress: A white dress would be lovely, to stand out from the candy colors. A white and pink dress, maybe even with some stripes(?) would be awesome for this theme. One way to achieve this look: Go with a white dress, and make a sash/belt out of the prettiest pink and white fabric that you can find. Use a candy bouquet instead of a flower bouquet for your ramo.
Dresses found at PeachesBoutique.com


---
Quince Court: Dress your quince court in the same style but different colors, such as from a package of Starburst! Pink, red, yellow and orange would be very cute. Or you could select one or two colors and alternate between your damas, and your chambelanes.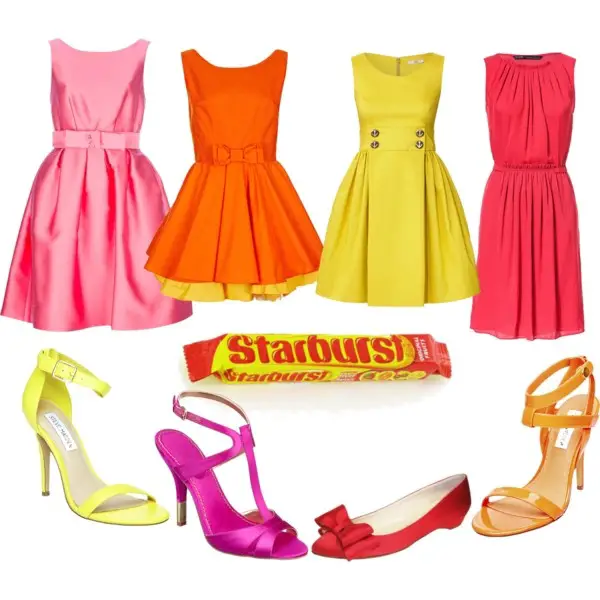 ---
Decorations: This is a very fun party theme to decorate for. Use a Candy Land Game Walkway
 at your entrance for your guests to walk on. Have each table represent a certain type of candy–Skittles table, Nerds table, Starburst, Jolly Rancher, Cotton Candy, Sweet Tarts, and so on.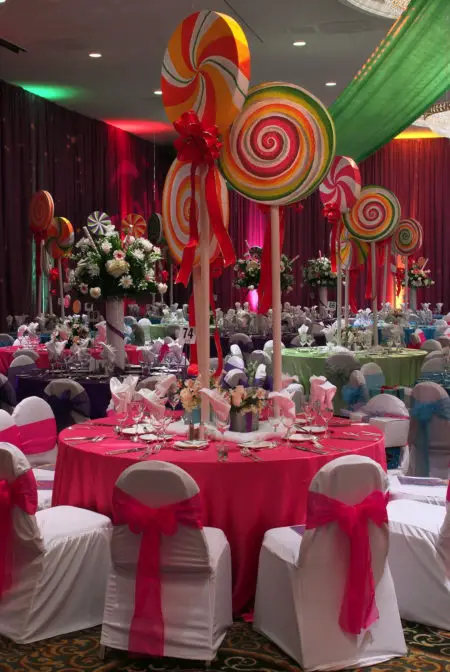 Here is a link to an excellent tutorial on making huge lollipop decorations–and there aren't that many materials needed to make the lollipops. You can also make large candy decorations out of balloons wrapped in cellophane.
A candy buffet is a must-have for this theme. Candystore.com has useful information regarding how to go about planning and creating a candy buffet. They even have tutorials that will give you an idea of what  5lbs or 10lbs of various candies look like, which is very important because you definitely want to have enough candy for your buffet.
Another candy buffet resource that I like is at myloveofstyle.com, How to Create a Candy Buffet. The photos of candy buffets and tutorial are worth checking out.
---
---
Another candy bar tip: start collecting glass containers in advance. Check clearance racks at stores, hobby stores that offer 50% off coupons, and especially the Dollar Store. You may also be able to borrow some pretty glass jars and containers. Glass can be thoroughly cleaned, so if you find a jar that's in great condition, that's a score!!
---
---
Food: Traditional quince foods will go well with this theme, Or you could go with appetizers and finger foods. A lemonade bar would be fun, with flavors to customize your lemonades.
---
The Cake: A colorful cupcake tower would be pretty, with a candy on each cupcake. For decorating inspiration and lots of examples of cakes to use for a candyland theme quinceanera, check out our Candy Quinceanera board on Pinterest.
---
Party Favors: Candy would be a great option. Opt for personalized candies, or create bouquet centerpieces that double as party favors. Your candy buffet could also double as favors if you set aside bags/ small favor boxes for the guests to use for their favors.
---
Special Touches: A candy bar is obviously a must for a candy themed party. You could also set up a candy station, complete with exotic samples for the guests to sample. A rainbow backdrop would be really nice for a photobooth station–and very inexpensive to make. Use dollar store table clothes in the 7 colors of the rainbow to make this backdrop.
---
Have you been to a candyland theme quinceanera or other candy-themed event? What decorations or special touches made the theme pop?
My Perfect Quince