We have an advertising relationship with the stores we link to in this post. Thank you!
I recently received some lovely samples from the people at Michaels Custom Invitations
 Michaels Custom Invitations offers many products, including quinceanera invitations, personalized balloons, cups, signs, napkins, favor boxes and more.  I found the invitations to be of a really nice quality, and I especially loved the photo invitations.
Although it is great to read reviews on invitations, you don't have to take my word for it.  An excellent idea is to order some samples yourself before you commit to ordering a particular invite.  That way, you will know for sure that you love the invitations you choose–and there won't be any surprises! So, definitely consider ordering samples so that you can make sure that you like the style, size, colors and texture.  
 Use this link to find invitations: Custom Invites: (7/25-8/1/15) 30% off Custom Invitations Orders with code PARTY30
Top 3 Quinceanera Invitations from Michaels, and why I liked them:
#1. Favorite: My absolute favorite invitation, but I may not have picked had I not seen it in person. It is called "Fanciful Flourishes"  and it is just a really attractive, impressive invitation.  It has a nice style, is front and back,  and includes a photo of the quinceanera.  It is not shiny, but has an elegant matte type finish.  If this style matches your theme, order a sample for this invitation (link above) and hopefully you will like it as much as I do!
#2. Best One Sided Invitation: My second favorite is really no surprise, because the invitation is the same format as the first, just a different design.  "Wildly Excited" is a lovely invitation choice if you are having a zebra print quince, or if zebra stripes fit into your color scheme. This is a lovely choice if you will not be including the names of your quince court, because the back has a design but not an option for wording.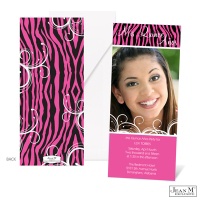 #3. Simple:  A simple but beautiful invitation is the "Sweet Tiara".  This invite would go well with a princess theme. It would also be nice with a color scheme that incorporates light pink, such as a ballet theme.  This invitation is also easy on the wallet: 96 invitations for under $100, at the time of this post.
Here are some other quinceanera invitations offered by Michaels.  I have not personally sampled these, but I trust that they will be of similar quality as the invitations that I received.  They really have amazing designs, with something to appeal to everyone. They also have several Disney themed invitations that are absolutely gorgeous. Again, I think ordering a sample is the best thing you can do to help you find and choose the best invitation 🙂
Keep in mind you do not need an invitation for everyone on your guest list–but instead, plan on one invitation per household. Click here for more quinceanera invitations tips
My Perfect Quince